---
NOW ON AIR
---
Maga First News
---
Upcoming Shows
---
Join The MAGA Network on Discord
---
---
The torrent of water from heavy rainfall spawned by last week's "bomb cyclone" and snowmelt has led to devastating flooding across several Midwestern states, including swamping a major Air Force base in Nebraska that's key to the nation's nuclear attack response.
About one-third of Offutt Air Force Base — including officers, hangars and nearly 3,000 feet of the base's 11,700-foot runway — is underwater due to flooding from the Missouri River south of Omaha.
Spokeswoman Tech. Sgt. Rachelle Blake told the Omaha World-Herald that 60 buildings, mostly on the south end of the base, have been damaged, including about 30 that were completely inundated with as much as 8 feet of water.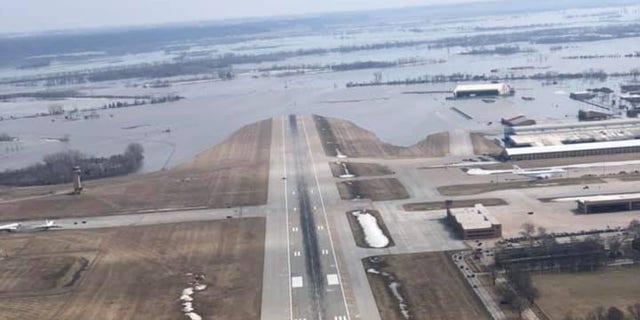 Airmen from the 55th Wing had been filling thousands of sandbags in a round-the-clock effort to fortify facilities but were forced to give up after filling 235,000 sandbags and preparing 460 flood barriers.
"It was a lost cause," Blake told the World-Herald. "We gave up."
MIDWEST BRACING FOR MORE 'UNPRECEDENTED' FLOODING THAT HAS SHATTERED RECORD-HIGH RIVER LEVELS
Col. Michael Manion, commander of the 55th Wing, has been providing updates on the flooding on Facebook. As of Tuesday morning, he reported there has been "slow water regression" that's allowed some high points that were underwater to be revealed. Disaster recovery crews are expected to arrive by the end of the week to begin work when floodwaters fully recede.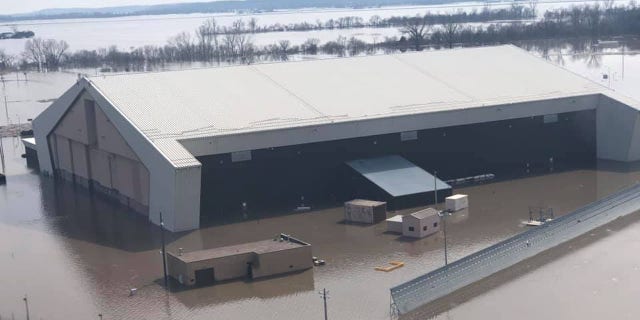 "The wheels are in motion but remember – it will likely take months and months and the SE side of the base will never look the same," he wrote.
Nine aircraft of the 33 reconnaissance jets based at the facility were able to be flown out before the runway was flooded, according to Manion.
One of the planes was a Boeing-made E4-B plane, which is meant to serve as an aerial command center in case of national emergency or destruction of ground bases in an event such as a nuclear attack, Reuters reported.
The base is also the location of the U.S. Strategic Command, which oversees the country's nuclear arsenal. The Strategic Command headquarters is set on a hill and was not affected by the floods, and neither was its new $1.3 billion building.
Many of the senior leaders from STRATCOM are participating in a worldwide military exercise called Global Lightning, which began Wednesday, according to the World-Herald.
MIDWEST FLOODS DEVASTATE NEBRASKA CITY, LEAVING MANY WITHOUT HOMES
Satellite photos released on Monday by NASA show the extent of the flooding in Nebraska, particularly along the Platte, Missouri and Elkhorn Rivers.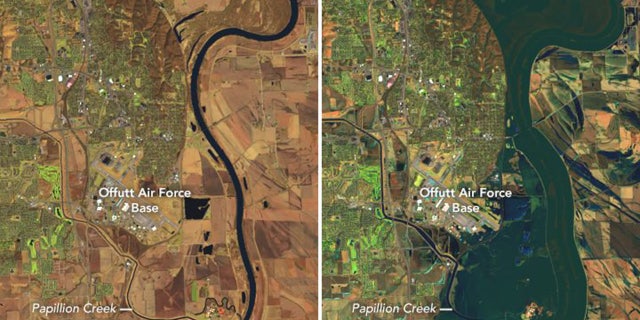 The effect of the flooding can particularly be seen around Offutt Air Force base.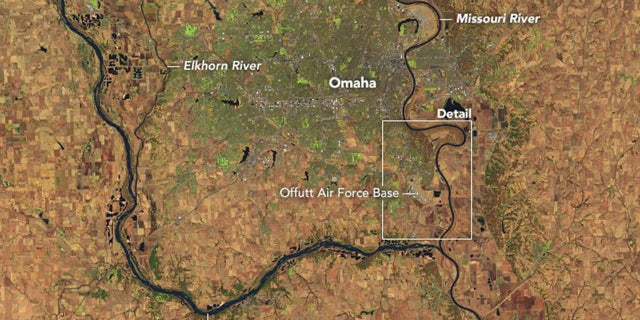 "Several communities west of Omaha (between the Elkhorn and Platte Rivers) either flooded or temporarily became islands as floodwaters encroached from both sides," NASA Earth posted to Facebook.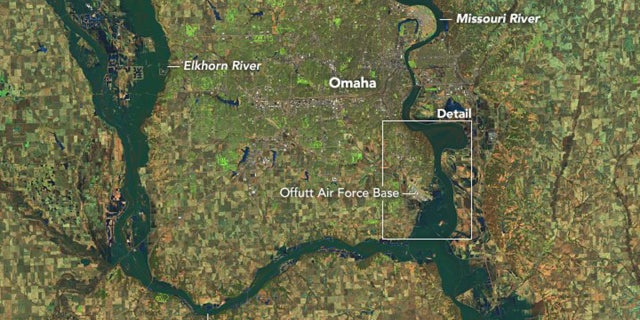 The agency said that a "rare confluence of circumstances" has contributed to the late-winter flood.
"Extreme cold earlier in the winter set the stage by preserving a significant amount of snow; it also created a thick layer of ice on waterways and made the ground less permeable than usual," NASA said. "When an intense storm brought downpours and unusually warm air to the region in March, it rapidly melted much of the snow and ice, producing enormous runoff in a short period."
CLICK HERE FOR THE FOX NEWS APP
At least 3 deaths were blamed on flooding, and two other men have been missing for days.
While river depths were starting to level off in parts of Nebraska on Sunday, the water is so high in many places that serious flooding is expected to remain for several days. And downstream communities in Kansas and Missouri were bracing for likely flooding.
The rising Mississippi River also was creating concern. The Mississippi was already at major flood level along the Iowa-Illinois border, closing roads and highways and swamping thousands of acres of farmland. Moderate Mississippi River flooding was expected at several Missouri cities, including St. Louis.
The Associated Press contributed to this report.
Source: Fox News National
House Speaker Nancy Pelosi explained to reporters Monday what kind steps she may consider to lower the federal voting age to 16 years old at a press conference in Ferguson, Missouri.
"We're obviously collecting thoughts about it. Just because someone has a good idea — any of us — doesn't mean it's going to the Floor next," Pelosi said. "It means you go through the process. You build consensus. You build a crescendo. That's another club I'm starting: the crescendo club."
She added, "You have an idea? Let's see how many people you can convince. Let's see what the other views are that we can enhance this."
Pelosi, at her weekly presser last Thursday, told The Daily Caller she always supported lowering the voting age. The Democrat-proposed legislation, known as the "For The People Act" (H.R.1), included a debate over a failed amendment intended to lower the voting age to 16 years of age. The amendment was defeated 126-305, but H.R.1 passed. (RELATED: 125 Democrats And 1 Republican Vote To Lower Voting Age To 16)
"I myself, personally — I'm not speaking for my caucus. I myself have always been for lowering the voting age to 16," Pelosi said last week. "I think it's really important to capture kids when they're in high school, when they're interested in all of this, when they're learning about government to be able to vote." (RELATED: Pelosi Says She Personally Supports Lowering The Voting Age To 16)
The Speaker further elaborated on her thoughts concerning the issue Monday night when she joined Missouri Democratic Rep. Lacy Clay to talk about and take questions about H.R.1, as well as the Voting Rights Advancement Act of 2019 (H.R.4).
" …. When kids are in high school is really a prime time for them to be aware of civics. Many years ago, when I was in school, civics was a requirement. Then — remember that? Well, you don't remember that, but you read about it."
She continued:
But then, it became an elective, and I don't know. There were other things kids took instead. So, the point is that when they are in high school, we see such a heightened interest in history and civics and climate and gun safety and you name it. And that would be a time for them to be registered to vote. Now, we want to start something that might say 'register to register.' But you've got to get them on there because once they leave high school, not all kids go to college. And even if they do, they might not be in that same sense of community that they as high school students can make a big difference. More and more, more and more.
Pelosi previously supported a local effort two years ago in San Francisco known as Proposition F, which would have lowered the voting age for municipal elections, but the measure was defeated.
Kerry Picket is a host on SiriusXM Patriot 125
Source: The Daily Caller
Lauryn Overhultz | Columnist
Julia Roberts took a firm stance against the actions of those involved in the college admissions scandal.
The "Pretty Woman" actress weighed in on the scandal while promoting her new drama "Ben Is Back" in the U.K.
"That to me is so sad, because I feel, [as] an outsider, that it says a little bit 'I don't have enough faith in you," Roberts told ITV in a report published Monday by Entertainment Tonight.
Roberts and her husband have three kids together, 14-year old twins and an 11-year old son. They try to keep the experience relatively normal for their kids, Roberts said.
"My husband and I are very aligned on that front, I think that we live a very normal experience with our children. Obviously we have advantages that we didn't have as children," Roberts told ITV. "But I think that's the unique part of it, coming from the childhood I have. You do need to know how to make your bed and do your laundry and make one meal. These are important life skills."
"They have to run their own race," she continued. "They have to have their own experience." (RELATED: Lori Loughlin's Daughter Loses Sephora Collaboration Amid College Admissions Scandal)
Actresses Felicity Huffman and Lori Loughlin were both charged in the massive admissions scandal for allegedly paying for their children to gain admission to certain colleges. Loughlin allegedly paid $500,000 in bribes so her daughters could secure admissions to the University of Southern California. Huffman reportedly paid $15,000 to have someone take the SAT test for her daughter.
Source: The Daily Caller
FILE PHOTO: The Supreme Court is seen in Washington, U.S., May 14, 2018. REUTERS/Joshua Roberts
March 19, 2019
By Lawrence Hurley
WASHINGTON (Reuters) – The Supreme Court on Tuesday endorsed U.S. government authority to detain immigrants awaiting deportation anytime – potentially even years – after they have completed prison terms for criminal convictions, handing President Donald Trump a victory as he pursues hardline immigration policies.
The court ruled 5-4, with its conservative justices in the majority and its liberal justices dissenting, that federal authorities could pick up such immigrants and place them into indefinite detention at any time, not just immediately after they finish their prison sentences.
The ruling, authored by conservative Justice Samuel Alito, leaves open the possibility of individual immigrants challenging the federal law involved in the case on constitutional grounds if they are detained long after they have completed their sentences.
In dissent, liberal Justice Stephen Breyer questioned whether the U.S. Congress when it wrote the law "meant to allow the government to apprehend persons years after their release from prison and hold them indefinitely without a bail hearing."
The Trump administration had appealed a lower court ruling in the case that favored immigrants, a decision it said would undermine the government's ability to deport immigrants who have committed crimes. Trump has backed limits on legal and illegal immigrants since taking office in January 2017.
The plaintiffs included two legal U.S. residents involved in separate lawsuits filed in 2013, a Cambodian immigrant named Mony Preap convicted of marijuana possession and a Palestinian immigrant named Bassam Yusuf Khoury convicted of attempting to manufacture a controlled substance.
Under federal immigration law, immigrants convicted of certain offenses are subject to mandatory detention during their deportation process. They can be held indefinitely without a bond hearing after completing their sentences.
(Reporting by Lawrence Hurley; Editing by Will Dunham)
Source: OANN
Oyub Titiev, the head of human rights group Memorial in Chechnya, attends his verdict hearing at a court in the town of Shali, in Chechnya, Russia, March 18, 2019. REUTERS/Said Tsarnayev
March 19, 2019
LONDON (Reuters) – British Foreign Secretary Jeremy Hunt condemned the sentence handed out to a prominent human rights activist by a court in Chechnya, calling it "an awful example of Russia suppressing vital work of human rights defenders".
Oyub Titiev, who runs the office of the Memorial Human Rights Center in the southern Russian region, was sentenced to four years in a penal settlement on Monday after he was found guilty of possessing illegal drugs. His supporters say he was framed, with the drugs planted in his car.
Hunt wrote on Twitter on Tuesday: "Fabricated charges & absurd sentence imposed on Oyub Titiev are intended to silence his work in holding Russian govt to account for human rights abuses in Chechnya – they must #FreeTitiev."
(Reporting by Michael Holden; editing by Stephen Addison)
Source: OANN
---