---
NOW ON AIR
---
Maga First News
---
Upcoming Shows
---
Join The MAGA Network on Discord
---
---
People visit a memorial site for victims of Friday's shooting, in front of the Masjid Al Noor mosque in Christchurch, New Zealand March 18, 2019. REUTERS/Jorge Silva
March 18, 2019
WELLINGTON (Reuters) – After days of intense grieving for New Zealand's worst-ever mass shooting, attention began to turn to how the country's gun laws need to change and what warning signs might have been missed ahead of a gunman's attack on two mosques that killed 50 people.
Bodies of the victims of Friday's attacks in Christchurch were being washed and prepared for burial in a Muslim ritual process, with teams of volunteers flown in from overseas to assist with the heavy workload.
Prime Minister Jacinda Ardern said her Cabinet had made in-principle decisions on changes to gun laws which she would announce next Monday, saying now was the time to act on tightening access to firearms.
Simon Bridges, leader of the opposition National Party, said he wanted to get details of the changes to see if there could be bipartisan support in Parliament. The National Party draws support from rural areas, where gun ownership is higher than in urban areas.
"We know that change is required. I'm willing to look at anything that is going to enhance our safety – that's our position," Bridges told TVNZ.
In addition to the 50 killed, dozens were wounded at the two mosques in the South Island city during Friday prayers.
Australian Brenton Tarrant, 28, a suspected white supremacist who was living in Dunedin, on New Zealand's South Island, was charged with murder on Saturday. Tarrant was remanded without a plea and is due back in court on April 5, where police said he was likely to face more charges.
Andrew Little, the minister who oversees New Zealand's intelligence agencies, said monitoring of online activity had been stepped up in the wake of the Christchurch attacks.
"There are people who have been online making statements who have been interviewed by the police; that will continue. There is a level of intervention, there is a heightened level of monitoring," Little said on TVNZ on Monday night.
Ardern said there would be an inquiry into what government agencies "knew, or could or should have known" about the alleged gunman and whether the attack could be prevented.
"We have to know whether there have been failings, whether there have been gaps," Little said on TVNZ. "We have to leave no stone unturned to not only deal with the perpetrator and ensure the criminal justice system gets to deal with him, but to understand how this could have happened in this country."
More than 250 New Zealand police staff are working on the inquiry in the attacks, with staff from the U.S. FBI and Australia's Federal Police working with local investigators.
In the wake of the deadly attack, other incidents were drawing scrutiny. A gun club in the northern town of Kaitaia burned down early on Tuesday morning, and police were treating the blaze as suspicious. A bomb hoax that closed Dunedin Airport on Sunday night and caused some flights to be diverted was under investigation, police said.
A black laptop bag was thought to have been bought onto the airfield by someone climbing over fences around the Dunedin airport. Police found a note written by the person who left the "hoax device," which was dealt with by defense force experts.
"The insensitive nature of this act in light of recent events cannot be overstated," police said in a statement.
(Writing by John Mair; Editing by Leslie Adler)
Source: OANN
FILE PHOTO: The ESPN logo is seen on an electronic display in Times Square in New York City, U.S., August 23, 2017. REUTERS/Mike Segar
March 18, 2019
By Hilary Russ
NEW YORK (Reuters) – The streaming digital sports service ESPN+ will become the exclusive distributor of pay-per-view events for the Ultimate Fighting Championship (UFC) in the United States, the companies announced on Monday.
The events will begin on April 13, almost exactly a year since parent company Walt Disney Co launched ESPN+ to retain viewers as traditional cable audiences started migrating to online services such as Netflix Inc.
ESPN+ lured 568,000 new subscribers when UFC debuted in January after the Las Vegas-based mixed martial arts promoter, a unit of Endeavor, LLC, moved fights there from Fox Sports.
By the time Disney held its quarterly earnings call with investors in February, it said ESPN+ had signed up 2 million paying subscribers. It is the model for Disney+, a streaming service for family-friendly Disney content that is supposed to launch later this year.
The UFC deal takes the traditional pay-per-view (PPV) model to a new level, giving ESPN+ subscribers exclusive access to the "biggest and most important fights," said Russell Wolff, ESPN+ executive vice president.
He would not say how many paying subscribers ESPN+ currently has.
The deal will also give the UFC something it has never had before: data about its PPV audience, including information about who is buying event access and viewers' propensity to purchase goods, said UFC Chief Operating Officer Lawrence Epstein.
Fans will be able to access UFC content in one place, rather than having to jump to different platforms as they did in the past. The agreement does not impact UFC's commercial sales to the thousands of U.S. bars and restaurants that air its fights, Epstein said.
Monday's UFC deal is an expansion of its previous ESPN+ agreement, which covered media rights to UFC Fight Night and now runs through 2025 along with the PPV deal.
The expanded agreement covers 12 live PPV events per year that will be streamed in high definition in English and Spanish.
PPV UFC fights will cost $59.99 per event for current ESPN+ subscribers, slightly less than the $64.99 fans usually paid in the past. New subscribers will pay $79.99 for their first PPV event and get one-year of ESPN+ access.
(This story corrects name of UFC parent company to Endeavor, LLC in third paragraph)
(Reporting by Hilary Russ; Editing by Susan Thomas)
Source: OANN
Beto O'Rourke made headlines after it was announced the former congressman raised over $6 million dollars in 24 hours to begin his presidential campaign — but his growing number of hand gestures also caught the attention of "The Five" on Monday.
"Jesse, you know what, I think he's stealing your 'I am Watters, this is my world thing,'" Greg Gutfeld told his co-host Jesse Watters. "He's doing it in every scene."
Gutfeld earlier looked like a malfunctioning robot as he mocked O'Rourke's criticism of the U.S.'s capitalist economy.
O'ROURKE APOLOGIZES FOR JOKE ABOUT WIFE
"As a guy who likes hand gestures I have to marvel at some of these," Watters told Gutfeld before displaying a few of the hand gestures O'Rouke has used.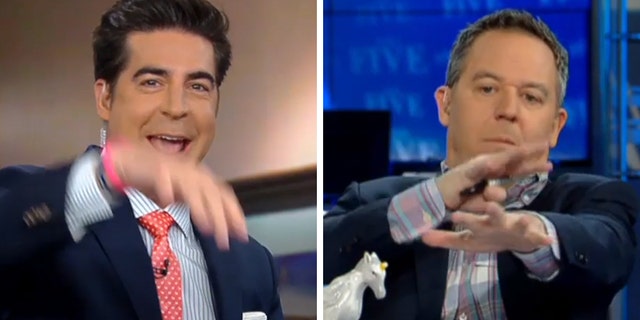 President Trump weighed in Friday at the White House suggesting that O'Rourke's hand movements looked "crazy."
"I think he's got a lot of hand movement. I've never seen so much hand movement.  I said, 'Is he crazy or is that just the way he acts?'" Trump told reporters. "I've actually never seen anything quite like it. Study it ― I'm sure you'll agree."
Tabloid TV show "Inside Edition" even asked if O'Rourke's hand gestures could cost him the presidency.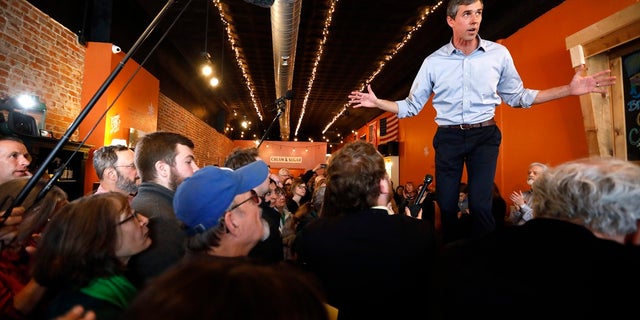 CLICK HERE TO GET THE FOX NEWS APP
While some commentators such as Gutfeld said the former congressman's hand gestures were "absurd," co-host Juan Williams pointed out that what's not absurd was the amount of money O'Rourke had raised and how much Democrats took a shine to him.
"People say, 'we don't know him, we don't know his positions.' Guess what, people like this guy," Williams said. "He has real energy and you're seeing some of the Obama people flock to his campaign."
Source: Fox News Politics
---