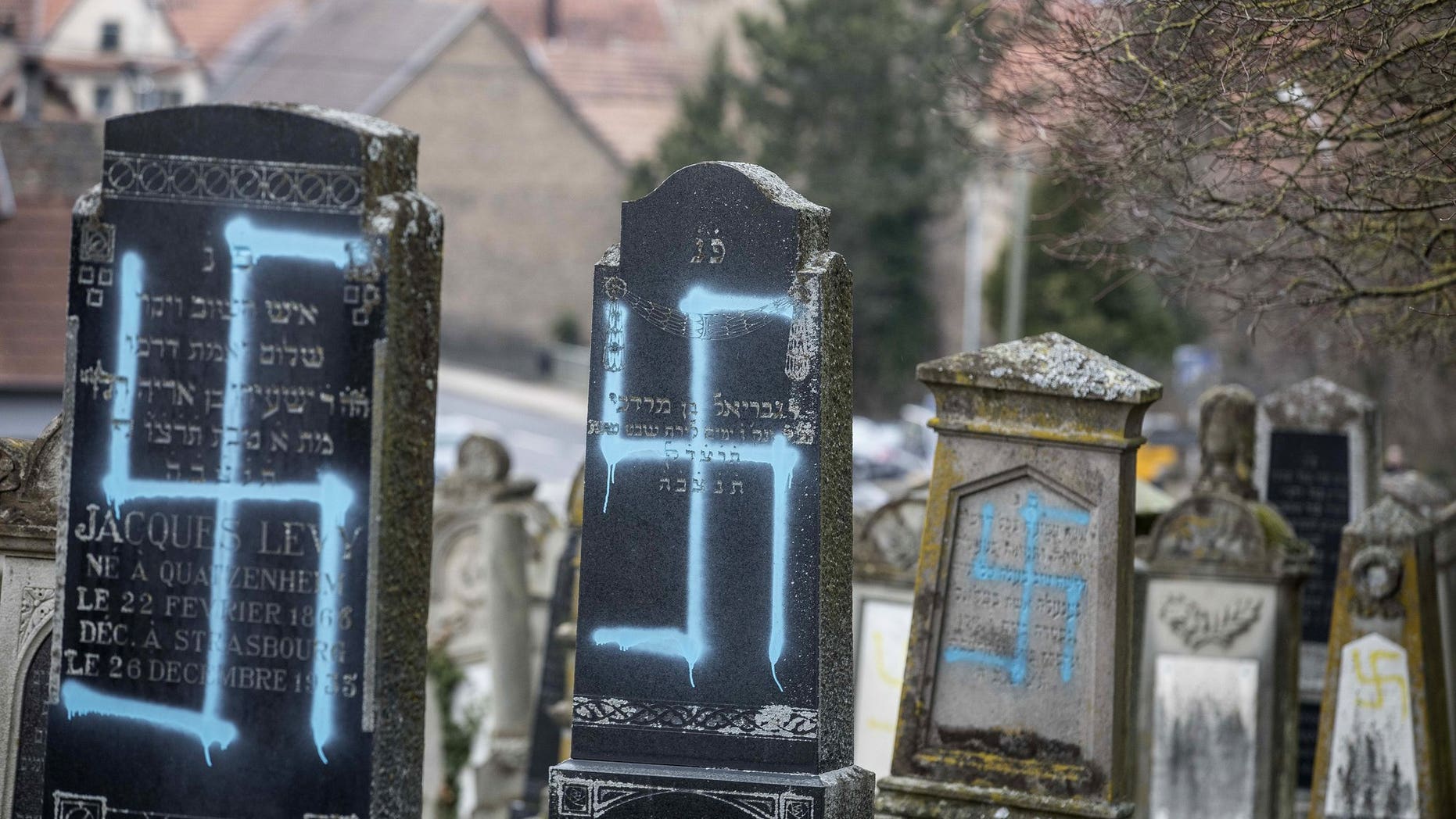 About 80 graves have been desecrated at a Jewish cemetery in France, the latest anti-Semitic attack in a string of hateful incidents this year that sparked an all-out protest on Tuesday.
A Jewish cemetery in a small Alsace town was vandalized overnight, with the damage discovered Tuesday. Officials said swastikas were painted on multiple graves.
The desecration comes as the French marched on the streets Tuesday in the wake of other anti-Semitics attacks in recent months, with former French presidents Francois Hollande and Nicolas Sarkozy joining the protesters.
'SPREADING LIKE A POISON': ANTI-SEMITIC ACTS INCREASE IN FRANCE
French government revealed that there was a big rise in incidents of anti-Semitism last year – 541 registered incidents, up 74 percent from the 311 registered in 2017.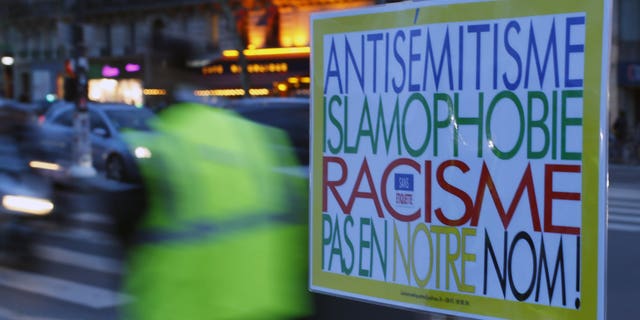 Last weekend, police had to step in to protect the philosopher, Alain Finkielkraut, after the so-called "Yellow Vests" taunted the academic using anti-Jewish slurs.
Two teens were arrested on Friday after they allegedly fired shots at a synagogue with an air rifle in Paris and injured one Jewish man. Prosecutors reportedly said the motive was anti-Semitism.
A swastika was also found on street portraits of Simone Veil — a survivor of Nazi death camps and a European Parliament president who died in 2017.
ANTI-SEMITIC GRAFFITI SPRAYED ON PARIS BAGEL SHOP COMPARED TO SIMILAR ACTS IN NAZI GERMANY
Multiple officials have condemned the recent attacks. Interior Minister Christophe Castaner said that anti-Semitism is "spreading like poison" in France, according to the BBC.
French President Emmanuel Macron also condemned the prevalence of anti-Semitism within the country.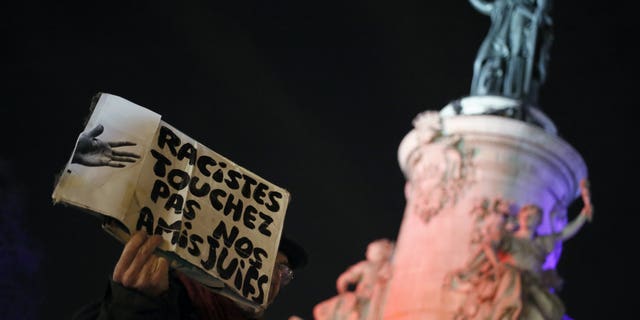 "Every time a French person, because he or she is Jewish, is insulted, threatened — or worse, injured or killed — the whole Republic" is attacked, Macron said at a press conference in Paris.
Most mainstream parties are attending the protest against anti-Semitism, while Macron is set to deliver a speech at Wednesday's annual dinner by leading Jewish group CRIF.
CLICK HERE FOR THE FOX NEWS APP
Marine Le Pen's far-right party, meanwhile, is holding a separate event to combat anti-Semitism.
The Associated Press contributed to this report.
Source: Fox News World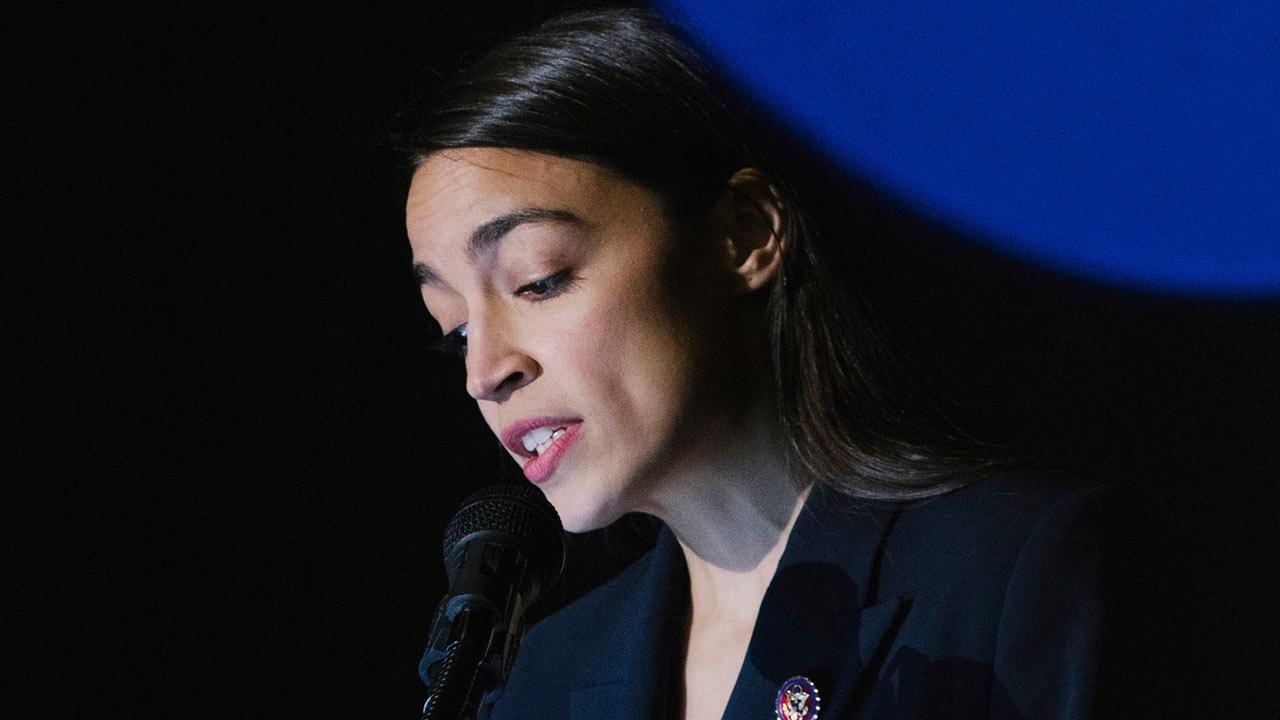 Rep. Alexandria Ocasio-Cortez raised eyebrows after comparing President Trump's border wall plans to the Berlin Wall separating communist Germany from the free world.
The New York Democrat made her remarks during a livestream for supporters on Friday, where she spoke out about the scrutiny she received ever since she won the election last year and dethroned top Democrat Joe Crowley.
BILL DE BLASIO CORRECTS OCASIO-CORTEZ'S CLAIM ABOUT SPENDING AMAZON TAX BREAK MONEY
"No matter how you feel about the wall, I think it's a moral abomination," Ocasio-Cortez said on the issue of the border wall that Trump has been pushing for since getting into office.
"I think it's like the Berlin Wall. I think it's like any other wall designed to separate human beings and block out people who are running away from the humanitarian disasters. I just think it's wrong," she added.
The Berlin Wall, which became the most notable border of the "Iron Curtain" during the Cold War, was built following the Soviet Union's recommendation amid an exodus of Germans living under the communist rule in East Germany following World War II and the partition of the country.
The wall, guarded by soldiers on the East's side, was a way to block the East Germans from fleeing communism to West Berlin and West Germany, a free and Democratic country. Multiple people were shot by the soldiers in their desperate efforts to escape East Berlin.
"Dear @AOC: Let me serve as your private professor here. The Berlin Wall was meant to keep people inside the socialist/communist utopia and stop them from fleeing to the decadent capitalist west. So as the New Millennial Lenin, you might want to refrain from using this example," Gad Saad, an evolutionary behavioral scientist at the John Molson School of Business, tweeted.
NEW YORK, CALIFORNIA, 14 OTHER STATES SUE TRUMP IN NINTH CIRCUIT OVER EMERGENCY DECLARATION
"People who compare the US-Mexico border wall to the Berlin wall failed or slept through the easiest history classes in middle school and high school," wrote another Twitter user.
President Trump's proposed border wall along the U.S.-Mexico border, meanwhile, has been touted as a deterrent against drug and human trafficking, in addition as a way to reduce illegal immigration numbers.
The White House is planning to move $8 billion in currently appropriated or available funds toward construction of the wall. Of that, $3 billion could be diverted with help from the national emergency declaration.
Source: Fox News Politics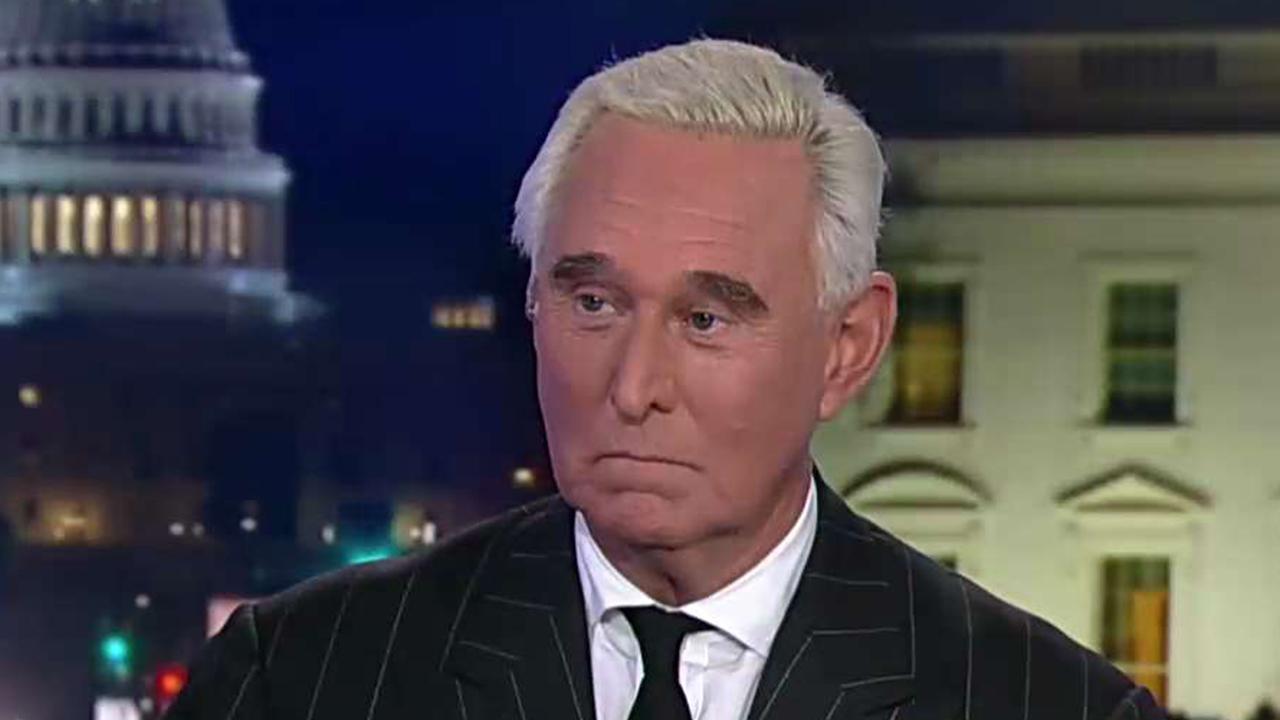 Former Trump adviser Roger Stone on Monday was forced to apologize to the judge presiding over his criminal case after sharing a picture of her on social media.
The photograph of Judge Amy Berman Jackson was posted on Instagram and included what some identified as a crosshair in the background, immediately prompting a backlash.
MUELLER CLAIMS TO HAVE EVIDENCE ROGER STONE COMMUNICATED WITH WIKILEAKS
He then deleted the post but later posted the same photograph again – just without the crosshair – and slammed his trial in a caption.
"Through legal trickery Deep State hitman Robert Mueller has guaranteed that my upcoming show trial is before Judge Amy Berman Jackson, an Obama appointed Judge who dismissed the Benghazi charges against Hillary Clinton and incarcerated Paul Manafort prior to his conviction for any crime," Stone's post was captioned.
Stone and his lawyers filed a notice on Monday night, admitting that the sharing of the picture wasn't appropriate and that he apologizes.
"Please inform the Court that the photograph and comment today was improper and should not have been posted. I had no intention of disrespecting the Court and humbly apologize to the Court for the transgression," Stone said.
"Please inform the Court that the photograph and comment today was improper and should not have been posted. I had no intention of disrespecting the Court and humbly apologize to the Court for the transgression."

— Roger Stone
JUDGE IMPOSES PARTIAL GAG ORDER IN ROGER STONE CASE
The former Trump advisor went on to explain himself further on Instagram, saying the post has been "misinterpreted" and denied he tried to threaten the judge.
"A photo of Judge Jackson posted on my Instagram has been misinterpreted. This was a random photo taken from the Internet. Any inference that this was meant to somehow threaten the Judge or disrespect court is categorically false," he wrote.
"What some say are cross hairs are in fact the logo of the organization that originally posted it something called corruption central. They use the logo in many photos," he added.
Stone has been the target of Special Counsel Robert Mueller's investigation into the alleged collusion between the Trump campaign and Russia.
He has been indicted by a grand jury on charges of obstruction, making false statements and witness tampering as part of Mueller's probe.
The Associated Press contributed to this report.
Source: Fox News Politics
---