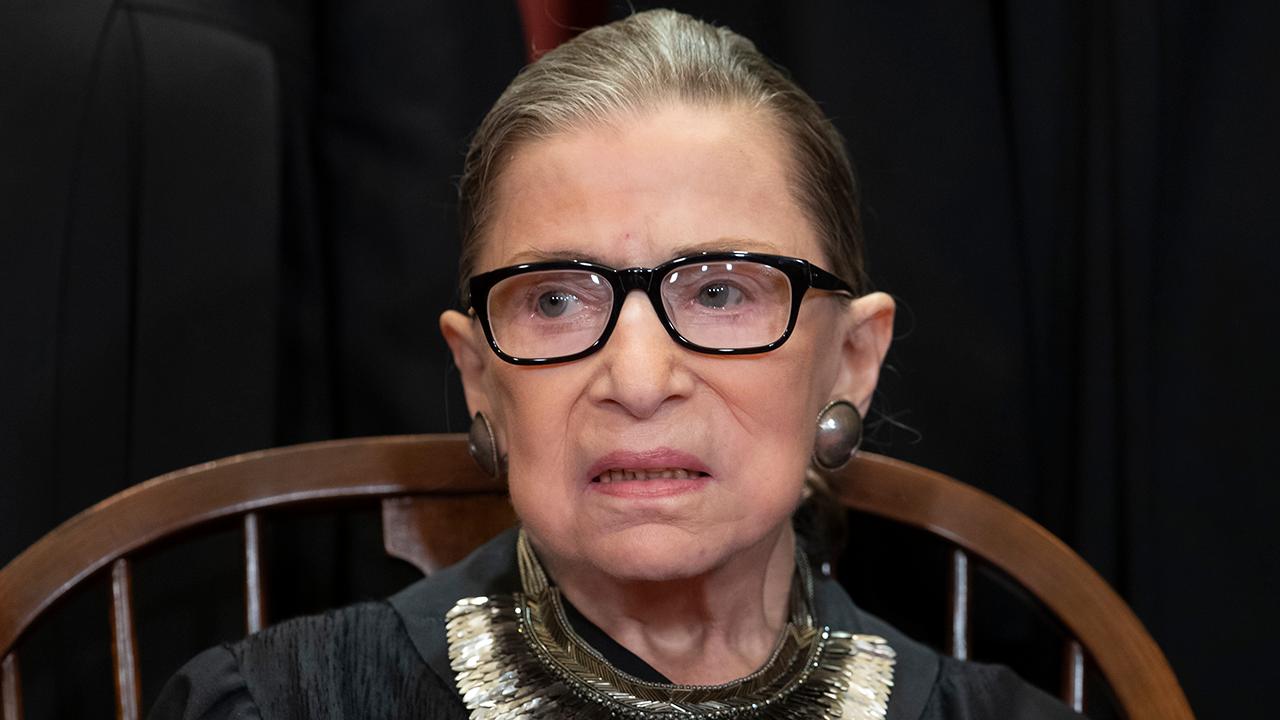 Supreme Court Justice Ruth Bader Ginsburg returned to the bench on Tuesday, eight weeks after undergoing surgery for lung cancer.
The 85-year-old, who underwent surgery in December, arrived with her eight colleagues promptly at 10 a.m., walking unassisted to her seat to hear oral arguments.
She smiled slightly and looked about the crowded courtroom, wearing her traditional black robe and lace collar.
The justice went on to ask a total of five questions to counsel on both sides of a patent law dispute, including the very first question. The questions were technical in nature. Her voice was strong, laced with her familiar Brooklyn accent.
JUSTICE GINSBURG MAKES FIRST VISIT TO SUPREME COURT SINCE LUNG CANCER SURGERY
Ginsburg had last appeared in a public session in early December, shortly before the surgery to remove two cancerous nodules from her left lung. No remaining signs of cancer were discovered.
After working from home during that period, she returned to the court building for the first time Friday, to participate in person at the justices' private conference. She told TMZ that she's "just fine" as she walked through Reagan National Airport in Virginia.
Ginsburg, considered the most liberal justice on the court, is closely watched by court observers for any potential signs that she may retire. Should President Trump pick a conservative replacement, it would mark a significant rightward swing for the already conservative-leaning court. However, Ginsburg reportedly hired clerks for the term that extends into 2020, indicated she has no plans to retire immediately.
CLICK HERE TO GET THE FOX NEWS APP
Ginsburg has dealt with a series of health concerns in recent years. She broke two ribs in 2012, and previously battled two bouts of cancer, in 1999 and 2009. She also had a stent implanted in her heart to open a blocked artery in 2014.
The Harvard Law School-educated justice was nominated to the Supreme Court by former President Bill Clinton in 1993 to replace retiring Justice Byron R. White. Ginsburg was Clinton's first Supreme Court pick.
Fox News' Brooke Singman and The Associated Press contributed to this report.
Source: Fox News Politics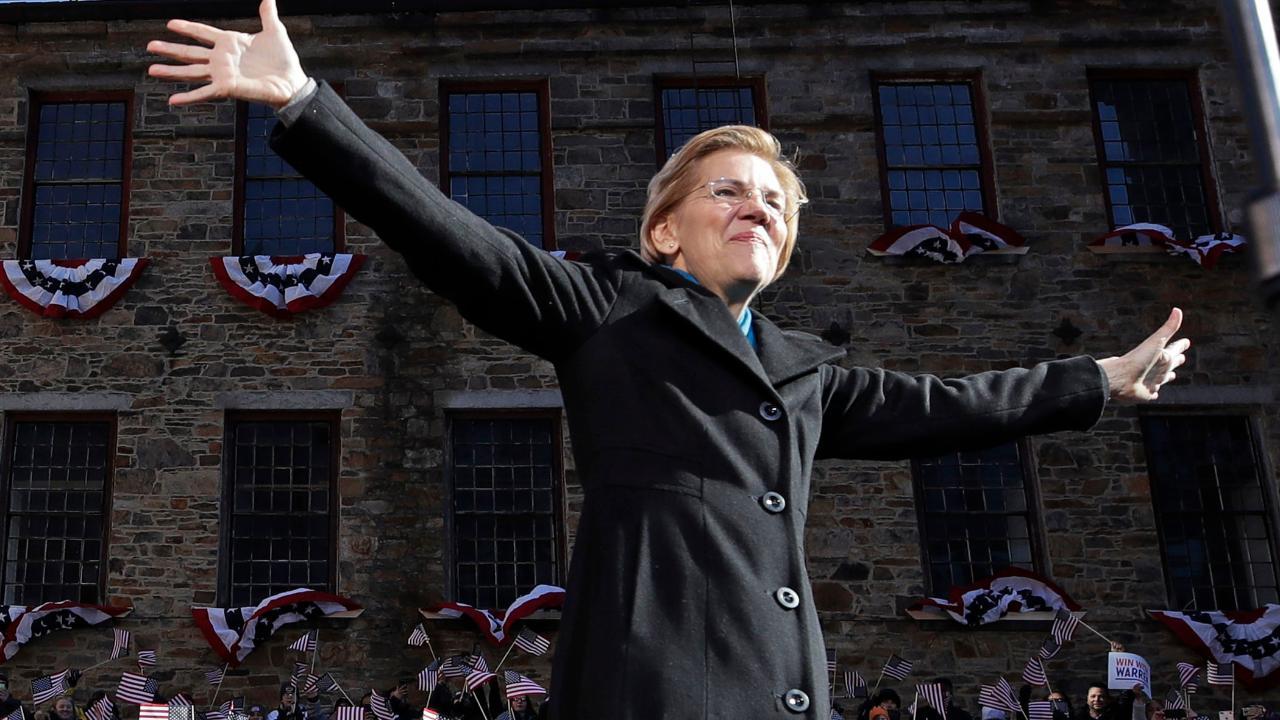 2020 presidential hopeful Sen. Elizabeth Warren, reacting to revived allegations that administration officials discussed invoking the 25th Amendment to remove President Trump from office in 2017, proclaimed that members of his Cabinet would have a "constitutional responsibility" to do so if they believe he can't perform his duties.
"My point here is that if they believe that Donald Trump cannot fulfill the obligations of his office, then they have a constitutional responsibility to invoke the 25th Amendment," Sen. Warren, D-Mass., said Sunday after a rally in Las Vegas, according to The Nevada Independent. "Their loyalty under law is not to him personally. It is to the Constitution of the United States and to the people of United States."
MCCABE REP DOWNPLAYS DOJ DISCUSSION ON USING 25TH AMENDMENT TO OUST TRUMP
The possibility of using the 25th Amendment to remove Trump was stirred up last week by former FBI Deputy Director Andrew McCabe who, in promoting his new book, described to CBS News the Justice Department meetings where officials allegedly discussed the option after the firing of then-FBI Director James Comey in 2017.
His spokeswoman later claimed that his comments were taken out of context, and that he was not aware of any "extended" discussions about the 25th Amendment.
"To clarify, at no time did Mr. McCabe participate in any extended discussions about the use of the 25th Amendment, nor is he aware of any such discussions," she continued. "He was present and participated in a discussion that included a comment by Deputy Attorney General Rosenstein regarding the 25th Amendment."
The comments, though, have revived interest among Trump's critics in the extraordinary process.
Former President George W. Bush's chief ethics attorney Richard Painter on Monday said Trump is "not well at all mentally" and needed to be removed.
ELIZABETH WARREN HECKLED AT GEORGIA CAMPAIGN STOP: 'WHY DID YOU LIE?'
"He is not capable of doing the job. He does need to be removed under the 25th amendment, but he stocked his cabinet with people who are unwilling to do that, and Congress is apparently unwilling to even try to remove him through impeachment," he said on MSNBC.
Warren, who has sparred with Trump repeatedly for years, has called for Trump to be ousted before. In September, she reacted to an anonymous op-ed from an administration official that detailed an alleged effort by those in the administration to thwart  Trump's "misguided impulses."
"If senior administration officials think the President of the United States is not able to do his job, then they should invoke the 25th Amendment," she told CNN. "The Constitution provides for a procedure whenever the Vice President and senior officials think the President can't do his job. It does not provide that senior officials go around the President — take documents off his desk, write anonymous op-eds … Everyone of these officials have sworn to uphold the Constitution of the United States. It's time for them to do their job."
Fox News' Brooke Singman and Ryan Gaydos contributed to this report.
Source: Fox News Politics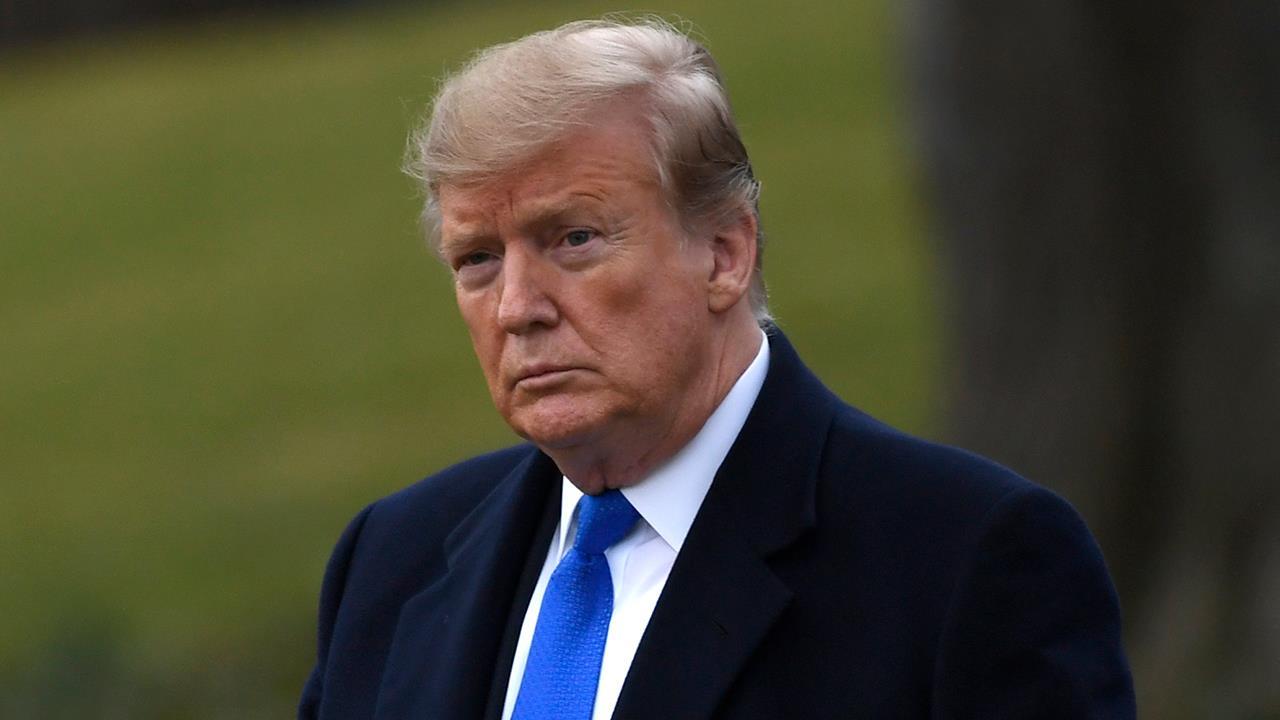 President Trump on Tuesday ridiculed California for its "failed Fast Train project" as he fired back at a multi-state lawsuit opposing his declaration of a national emergency on the southern border.
"As I predicted, 16 states, led mostly by Open Border Democrats and the Radical Left, have filed a lawsuit in, of course, the 9th Circuit! California, the state that has wasted billions of dollars on their out of control Fast Train, with no hope of completion, seems in charge!" he tweeted.
NEW YORK, CALIFORNIA, 14 OTHER STATES SUE TRUMP IN NINTH CIRCUIT OVER EMERGENCY DECLARATION
Trump was referring both to the lawsuit and to California's high-speed rail project from Los Angeles to San Francisco, which was canceled last week amid delays and cost overruns. The $77 billion project would dwarf the cost of a wall at the border — estimated to be $20-25 billion.
"The failed Fast Train project in California, where the cost overruns are becoming world record setting, is hundreds of times more expensive than the desperately needed Wall!" he tweeted.
The lawsuit, filed Monday by attorneys general of California, New York and 14 other states in the Ninth Circuit, challenges Trump's announcement on Friday declaring a national emergency over border security — a move that allows him to potentially access more funds for the proposed wall on the southern border.
The lawsuit seeks an injunction to prevent Trump from shifting billions of dollars from military construction to the border without explicit congressional approval. The suit also asks a court to declare Trump's actions illegal, arguing that Trump showed a "flagrant disregard of fundamental separation of powers principles engrained in the United States Constitution" by violating the Constitution's Presentment and Appropriations Clauses, which govern federal spending.
The litigation also includes allegations that Trump is violating the National Environmental Policy Act, by planning to build a wall that could impact the environment without first completing the necessary environmental impact reports.
HILLARY CLINTON SLAMS TRUMP'S NATIONAL EMERGENCY DECLARATION IN TWEET
"President Trump treats the rule of law with utter contempt," California Attorney General Xavier Becerra said Monday. "He knows there is no border crisis, he knows his emergency declaration is unwarranted, and he admits that he will likely lose this case in court."
Trump had previously predicted that opposition to his declaration would come through the Ninth Circuit, a court he has had issues with before. The San Francisco-based circuit has long been a legal stumbling block for conservative policies, and the White House has sought to appoint conservative justices to thin out the liberal ranks on the court. Last year, Trump bypassed traditional protocols and ignored the concerns of the state's Democratic politicians to nominate prominent conservatives to the Ninth Circuit.
CLICK HERE TO GET THE FOX NEWS APP
Trump announced his decision to declare a national emergency on Friday after a compromise spending bill to keep the government open gave only $1.4 billion for barriers, and that money came with strings attached about where it could be used and on what barriers. It was well short of the $5.7 billion Trump had demanded.
A senior administration official told Fox News the White House is planning to move $8 billion in funds toward the wall, $3 billion of which would be diverted with help from the emergency declaration.
Fox News' Gregg Re, John Roberts and Barnini Chakraborty contributed to this report.
Source: Fox News Politics
---