Richmond Mayor Levar Stoney also resigned from a planning committee in protest. Caucus members said they will also boycott the rest of a weeklong series of events marking the 400th anniversary and have instead planned alternative commemorations Tuesday in Richmond, Virginia's capital. Trump's comments about Cummings were the latest rhetorical shot at a lawmaker of color to spark outrage. Earlier this month, Trump drew bipartisan condemnation following his call for four Democratic congresswomen of color to get out of the U.S. "right now." Caucus chair Del. Lamont Bagby said in an interview the group unanimously reached the boycott decision more than a week ago. But he said the president has "continued his attacks" since then and his remarks about Cummings' district were more of the same. Virginia's black state lawmakers announced Monday they will boycott a ceremony this week commemorating the beginnings of American democracy because President Donald Trump is scheduled to attend. Trump will join national and state leaders and dignitaries at Tuesday's event, a commemorative session of the Virginia General Assembly at which Trump is to deliver remarks. White House press secretary Stephanie Grisham said Monday that the caucus was pushing "a political agenda." "The commemoration of the birth of this nation and its democracy will be tarnished unduly with the participation of the President, who continues to make degrading comments toward minority leaders, promulgate policies that harm marginalized communities, and use racist and xenophobic rhetoric," the caucus said in a statement. The convening of a legislative assembly in 1619 formed the basis of today's representative system of government in the United States. The Virginia General Assembly is considered the oldest continuously operating legislative body in North America. The caucus' statement did not specifically mention Cummings but said Trump's "repeated attacks on Black legislators and comments about Black communities makes him ill-suited to honor and commemorate such a monumental period in history." When the Richmond Times-Dispatch first reported earlier in the month that Trump would take part in the event, top Democratic lawmakers said they would not attend. Republican Senate Majority Leader Tommy Norment said at the time that their decision was "disappointing and embarrassing." The Virginia Legislative Black Caucus said its members would not attend Tuesday's event in historic Jamestown marking the 400th anniversary of the first representative assembly in the Western Hemisphere. The boycott comes after Trump's weekend comments referring to Maryland Democratic Rep. Elijah Cummings' majority-black Baltimore-area district as a "disgusting, rat and rodent infested mess." Tuesday's events are just one part of a yearlong commemoration called American Evolution meant to honor key milestones in the state's colonial history, including the 400th anniversary of the arrival of the first recorded Africans in English North America. "President Trump passed criminal justice reform, developed opportunity zones securing record-setting investment in distressed communities, and pushed policies that created the lowest unemployment rates ever for African Americans, so it's a bit confusing and unfortunate that the VLBC would choose to push a political agenda instead of celebrate this milestone for our nation," she said in a statement.
Related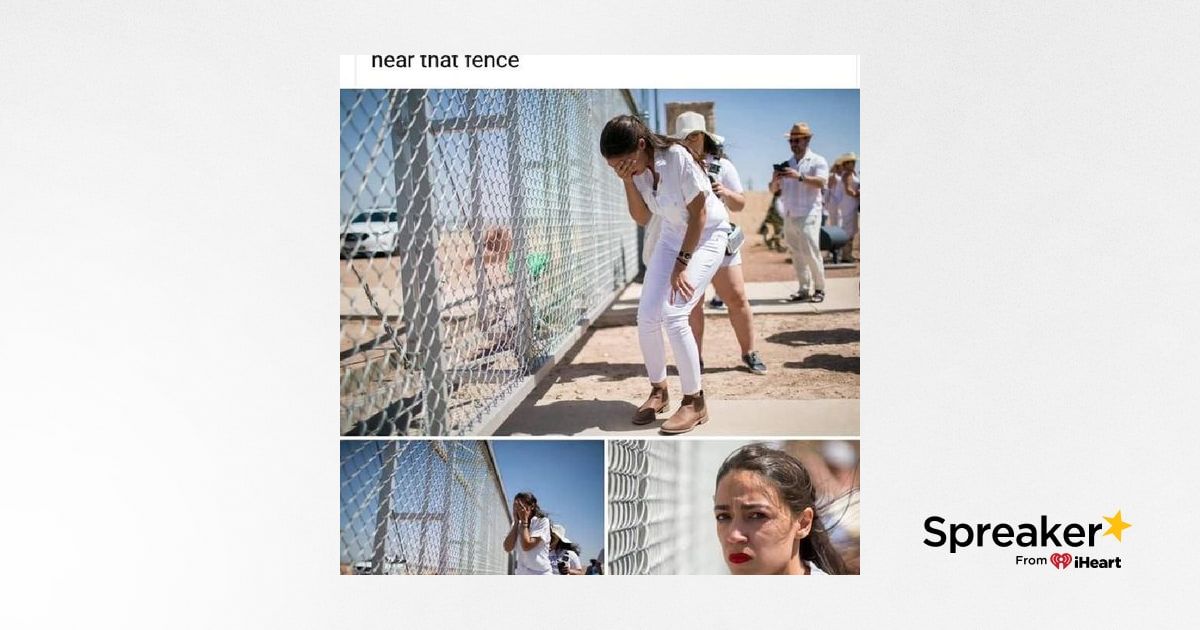 .@AOC ain't nothing but s Hounddog just crying/lying all the time.. do you think the news covers her way too much?
Ocasio-Cortez continues to compare border conditions to 'concentration camps,' critics accuse her of misinformation campaign
U.S. Rep. Alexandria Ocasio-Cortez, D-N.Y., has sparked controversy in recent weeks with arguably increasingly inflammatory rhetoric in her conversations about the conditions at the U.S.-Mexico border. Despite coming under fire last month for … See More saying the U.S.government is "running concentration camps on our southern border," Ocasio-Cortez once again made the same comparison on Twitter on Tuesday. On Monday, after traveling to a border detention center in El Paso, Texas, with almost a dozen members of the Congressional Hispanic Caucus, she blasted border officials as "violent" and "inhumane" while claiming agents forced detained migrant women and children to drink toilet water.
Current and former immigration officials rejected the congresswoman's allegations and accused her of pulling a political stunt. Hispanic pastors who toured the same facility Ocasio-Cortez visited said the conditions at the detention center were "drastically different" than what she described. They said they were "shocked at the misinformation of the crisis at the border." The controversy over AOC's latest comments come as afederal judge ruled Tuesday that the Trump administration cannot categorically detain asylum seekers while they pursue their cases.
Navy SEAL rejoices in not guilty verdict
Navy SEAL Edward Gallagher said he feels thankful and vindicatedafter a jury on Tuesday found him not guilty on almost all charges he was facing, including murder and attempted murder, in the 2017 killing of a teenage ISIS war prisoner in Iraq. "I'm happy and I'm thankful," Gallagher told reporters after the verdict, as he joked with his legal team that "it's Independence Day," his freedom coming days before the Fourth of July. Jurors did find him guilty of the seventh charge, posing for a photo with a corpse, considered the least egregious of the crimes, which carries a maximum prison sentence of four months. Having already served seven months in confinement ahead of the trial, Gallagher, a Bronze Star recipient, is expected to go home a free man after his sentencing, his defense lawyers said.
Trump detractors sound the alarm as military vehicles roll in for July 4 celebrations
Appearing on "Deadline: White House," MSNBC's Joy Reid insisted on Tuesday that President Trump is using the upcoming Fourth of July "Salute to America" celebration as a "threat" to Americans who oppose him. Trump has longed talked about showing off America's military capabilities in celebration of Independence Day, and now his vision is coming to fruition as tanks arrive in Washington, D.C., ahead of Thursday's festivities. Reid claimed that Trump aspires to be a "mini" North Korean leader Kim Jong Un or Russian President Vladimir Putin. According to Fox News' Geraldo Rivera, these kind of complaints are the ramblings of Trump haters.
Still, as preparations were underway Trump's July 4 celebration, a few problems emerged along the way as military vehicles were hauled into the capital city. On Tuesday, a flatbed carrying the tanks was apparently unable to clear an underpass, according to photos tweeted by a Politico reporter. A crane was later employed to resolve the issue. Retired U.S. Army Gen. Thomas Spoehr, director of the Heritage Foundation's Center for National Defense, told the Daily Reporter that some local roads are ill-equipped to handle the weight of the tanks.
Missing Connecticut woman's estranged husband maintains innocence
Fotis Dulos, a Connecticut real-estate developer charged in connection with the disappearance of his estranged wife Jennifer Dulos, maintained his innocence Tuesday during his first sit-down interview about the case, claiming he's "worried" about his wife and never wished her "ill in any way." "I know what I've done, I know what I haven't done," the 51-year-old Greek immigrant told New York City's WNBC-TV. "I have to stand and fight and hope that the truth is going to come out." Jennifer Dulos, 50, hasn't been seen since dropping her children off at school in New Canaan, Conn., on May 24.
Remembering Lee Iacocca
Lee Iacocca, the father of the Ford Mustang and former chairman of Chrysler, has died of natural causes at his home in Bel Air, Calif., his family said Tuesday. He was 94. Iacocca, born in Allentown, Pa., on Oct. 15, 1924 as the child of Italian immigrants, started working at Ford Motor Co. in 1946 and is heralded as the leader of the team that created the first Mustang in 1964. He ascended to CEO of the company in 1970 but was fired by Henry Ford Jr. in 1978. He moved on to Chrysler Corp. in 1978 and became the CEO a year later, pulling the company out of bankruptcy after taking it over. Iacocca successfully persuaded the federal government to provide the company a $1.2 billion loan in 1979 and made major cuts to the workforce, slashing wages — including his own, which he shrunk to $1 a year — and closing plants. He also introduced fuel-efficient cars and the minivan. His effortswere successful and Chrysler made a comeback, profiting $20 million. The turnaround made Iacocca a media star. Later, he was a key figure in the restoration of the Statue of Liberty and creation of the Ellis Island museum.
TODAY'S MUST-READS
DOJ says citizenship question being dropped from 2020 Census.
Former Google exec ran 'sex ring,' estranged wife claims in civil complaint.
Vatican to open two tombs in decades-old disappearance of teen.
MINDING YOUR BUSINESS
Charlie Ergen presents significant obstacle in T-Mobile-Sprint negotiations with DOJ.
WATCH: Facebook, YouTube tweaking algorithms to fight misinformation: Report.
These are the highest paid White House employees.
---