New Border wall in 'smuggler's gulch' is working according to CBP agents
Justin De La Torre stated a steep, open canyon between San Diego and Tijuana has been used for decades by immigrants to smuggle drugs into the U.S. from Mexico.
"It has an anti-climb feature, it's made of steel, it also has a concrete base that prevents digging from underneath, and now we're able to control this area with the new infrastructure."
According to California Border Patrol agents, new infrastructure in an area known as "smuggler's gulch" is making a difference.
President Trump moved to replace the fencing along the San Diego border earlier this year as his administration sped up moves to build taller, stronger border reinforcement.
"This is a smart, strategic, see-through steel barrier — not just a simple concrete wall,"
said the president.
"It will be deployed in the areas identified by border agents as having the greatest need, and as these agents will tell you, where walls go up, illegal crossings go way down."
Numerous wall construction projects are underway across the Southwest border, including projects in California, Arizona, New Mexico and Texas. — CBP (@CBP) August 25, 2019
Related
#MagaFirstNews 8.29.19
MSNBC's O'Donnell retracts unverified Trump-Russia story, makes on-air apology
MSNBC host Lawrence O'Donnell on Wednesday night retracted a story that directly tied President Trump's finances to Russia and made an on-air apology for running the unverified report. "Last night on this show, I discussed information that wasn't ready for reporting," O'Donnell said. "I repeated statements a single … See More source told me about the president's finances and loan documents with Deutsche Bank. Saying 'if true' — as I discussed the information — was simply not good enough. I did not go through the rigorous verification and standards process here at MSNBC before repeating what I heard from my source. Had it gone through that process, I would not have been permitted to report it. I should not have said it on-air or posted it on Twitter. I was wrong to do so."
High-profile Democrats fail to qualify for primary debates in September
Several struggling Democratic presidential candidates have failed to qualify for the next round of primary debates scheduled in September. Those missing the cut include U.S. Rep. Tulsi Gabbard of Hawaii, U.S. Sen. Michael Bennet of Colorado, billionaire climate-change activist Tom Steyer, Montana Gov. Steve Bullock and self-help guru Marianne Williamson. To appear on stage in Houston next month, they had to hit 2 percent in at least four approved public opinion polls while securing 130,000 unique donors.
Hours ahead of a midnight Wednesday deadline to qualify, Sen. Kirsten Gillibrand of New York announced she was dropping out of the race. In an interview on "Tucker Carlson Tonight," Gabbard complained that the Democratic National Committee lacks "transparency" in the debate qualification process.
Omar hit with FEC complaint, accused of paying alleged lover's travel expenses with campaign funds
The conservative, Virginia-based National Legal and Policy Center filed a complaint against Rep. Ilhan Omar, D-Minn., with the Federal Election Commission (FEC) on Wednesday, alleging that the lawmaker used campaign funds to illegally reimburse her purported paramour for personal travel expenses. The complaint also charges that Omar failed to itemize travel reimbursements as required by the Federal Election Campaign Act of 1971 — and that the travel expenses increased during the same month that Omar's alleged affair with married Washington, D.C., political consultant Tim Mynett, 38, heated up. Omar has denied that she had an affair with Mynett, and her attorneys have dismissed the FEC complaint as a baseless "political ploy."
Dorian takes aim at Florida
Hurricane Dorian moved out over open waters early Thursday after doing limited damage in Puerto Rico and the Virgin Islands, and forecasters warn it could hit Florida over the weekend. The U.S. National Hurricane Center said Dorian was expected to strengthen into a dangerous Category 3 hurricane as it stayed well to the east of the southeastern and central Bahamas over the next two days. The forecast called for the storm to pass near or over the northern Bahamas on Saturday and close in on Florida by Sunday afternoon.
DHS bars Dem staffers from visiting border facilities after 'rude' and 'disruptive' behavior
The Department of Homeland Security (DHS) has barred Democratic staffers from the House Oversight Committee from visiting Customs and Border Protection (CBP) facilities at the U.S.-Mexico border as part of a planned trip this week after committee staff allegedly were "disruptive" and refused to follow instructions during their last trip. Committee Chairman Elijah Cummings, D-Md., had sent his staff to visit border facilities for "oversight inspections" last week and planned to send staff again to view Immigration and Customs Enforcement (ICE) and CBP centers.
DHS has revoked access to CBP facilities for the upcoming visit, citing staff behavior that "interfered" with law enforcement operations — including refusing to leave one site after their scheduled window, skipping some tours and being "rude" to officers. A DHS official said that ICE visits will still be allowed the rest of this week, but with a two-hour time limit.
Uber driver bitten in Georgia attack that left car damaged, woman arrested
A Georgia woman was arrested after police say she was caught on camera attacking an Uber driver — by biting him and trying to damage his car.
Tasheena Campbell, 26, was taken into custody Aug. 20 — days after the incident in which she allegedly attacked driver Yasser Hadi in midtown Atlanta on Aug. 18.
A video uploaded to Twitter of the attacks begins with a woman — identified by WAGA as Campbell — sitting on the hood of a car, breaking off a windshield wiper. Bystanders and Hadi encourage her to stop, before the woman throws a punch at Hadi.
The woman hops off the car and enters the vehicle through the driver-side door while Hadi tries to stop her. "Get out my car!" he shouts, as he pulls the woman out to the ground. The woman tries punching the Uber driver — before biting him, prompting him to scream.
Tasheena Campbell, 26, was charged with battery and criminal trespass following the incident. It's unclear what sparked the altercation. Hadi said Campbell appeared out of nowhere and randomly attacked him.
"She's acting weird, she's acting wild, and she's on the car hitting it, telling me I need to die, to kill me," Hadi told WAGA of the encounter. "The pain, I said, "God, just let her take my flesh, I don't care. I want her to go away from me."
The Uber driver said the situation is "horrible."
"She's hit me in my job, my health and my financial pocket money, it's hard," said Hadi, noting he doesn't have insurance. "I'm in a bad situation. I wish people see this and help." Campbell was arrested and charged with battery and criminal trespass, according to online records from the Fulton County Jail. She was still in custody as of Thursday.
Kentucky mother Andrea Knabel, a volunteer who searches for missing people, reported missing
A Kentucky mother of two who searches for missing people has now seemingly disappeared herself.
Andrea Knabel, 37, was last seen leaving a relative's home in the Audubon Park neighborhood of Louisville around 1 a.m. on Aug. 13, according to Missing in America, the organization for which she volunteers.
Around 1:30 a.m., she used her cellphone to call her friend and ask for a ride, the Louisville Courier-Journal reported. Several security cameras are located in the neighborhood, but many weren't active when she was in the area.
A friend of Knabel's told WAVE the single mother "was upset and she needed a ride" — and was too trusting of other people.
"Obviously she was trying to get ahold of people, maybe she got in the car with the wrong person," said Maricia Kidd, who has known Knabel for 30 years. She noted Knabel's car was recently totaled in a hit-and-run accident and said she'd been laid off at work.
"Here she is helping to locate people and she comes up missing herself," said Tracy Leonard, a private investigator and friend of Knabel. "She's just a super great girl. She helped me locate a missing teen about a year and a half ago."
The group's founder, Nancy Schaefer Smith, said that Knabel, a "dedicated member" of Missing in America, is the first volunteer ever to disappear like this.
"She is loved by so many people," Smith told the Courier-Journal. "It's all hands on deck. She's my girl…We're going to find her."
Knabel is described as a white female with light brown hair. She weighs between 190 to 200 pounds and is around 5 feet 7 inches tall. She was last seen wearing a "light color tank top and white shorts."
Anyone with information is urged to contact Leonard at 502-618-9337 or Smith at 502-500-3026, or the Louisville Metro Police at 502-574-5673.
Pennsylvania man's 'gunlike hand gesture' toward neighbor was a crime, court rules
A Pennsylvania court ruled Tuesday that making a "gunlike hand gesture" is a crime after a man-made the hand motion during an argument with his neighbor — an act which reportedly made several nearby residents nervous and prompted a call to police.
Stephen Kirchner, 64, made the gesture toward his neighbor in Manor Township in June 2018, according to surveillance video. Kirchner, walking alongside a female neighbor, "stopped, made eye contact with [the male neighbor] and then made a hand gesture at him imitating the firing and recoiling of a gun," according to court documents.
The action made one neighbor feel "extremely threatened" and he called 911. Another neighbor said she saw Kirchner "put his finger up like he was going to shoot [the neighbor]", "insecure," prompting her to call 911.
Kirchner and the female neighbor Kirchner had been walking with previously had issues and confrontations, sparking the neighbor to install six security cameras on his property. At the time of the incident in 2018, the female neighbor had a "no contact" order against the neighbor who felt threatened, court documents indicate.
Kirchner was issued a citation for disorderly conduct following the incident. He said in district court he made the "gunlike" gesture after his neighbor gave him "the finger with both hands."
The 64-year-old was found guilty, but appealed, arguing the hand gesture didn't "create a hazardous or physically offensive condition." Kirchner said he didn't mean to cause public alarm, and there wasn't really any harm done to the neighbor or others.
On Tuesday, however, the Superior Court of Pennsylvania found the gesture "served no legitimate purpose, and recklessly risked provoking a dangerous altercation."
Kirchner was ordered to pay a $100 fine and court costs.
Related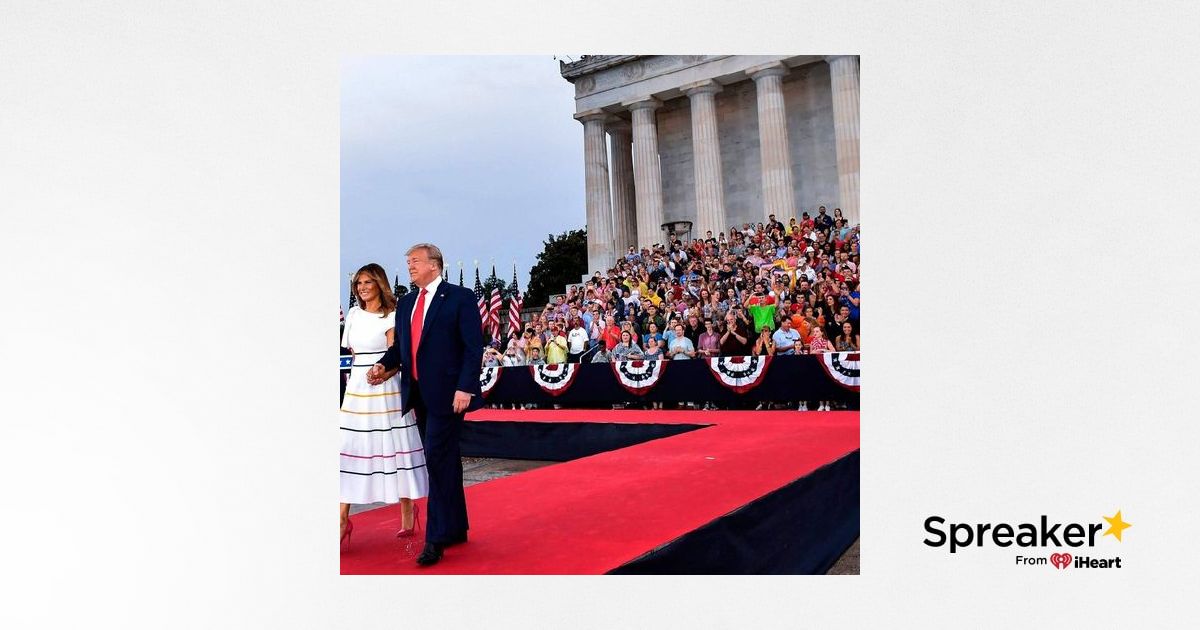 Trump saluted America in A #MAGA July 4 event, despite critics, What Do you Think About His Speech?
Trump salutes America in elaborate July 4 event, despite critics — and a downpour of rain
Despite concerns that he would use the Fourth of July event as a glorified campaign rally, President Trump used his "Salute to America" speech Thursday evening to praise the men and women of the armed forces and American exceptionalism. With the Lincoln Memorial as a backdrop and flanked by camouflaged … See More Bradley fighting vehicles, Trump stuck mainly to the script during his speech – praising the spirit that "runs through the veins of every American patriot" and attempting to strike a more unifying and conciliatory tone than he is generally known to take.
While Trump's speech set a unifying tone, the lead-up to the event was far from harmonious – with Trump's opponents,especially 2020 Democratic presidential candidates, slamming him on everything from the cost of the event to the perceived exploitation of the holiday for a political purpose. Two outside groups, the National Parks Conservation Foundation and Democracy Forward, want the Interior Department's internal watchdog to investigate what they say may be a "potentially unlawful decision to divert" national parks money to Trump's "spectacle."
White House seeking all options on citizenship question for 2020 census
President Trump on Thursday doubled down on his push for a citizenship question on the 2020 Census, promising that his administration is "working very hard" on the controversial issue — as reports say he is mulling using an executive order to get the question on the census. "So important for our Country that the very simple and basic 'Are you a Citizen of the United States?' question be allowed to be asked in the 2020 Census," he tweeted. He added that the Commerce and Justice departments were "working very hard on this, even on the 4th of July!" Earlier this week, Commerce Secretary Wilbur Ross announced that his department was going ahead with the printing of the census without the citizenship question, apparently indicating that the administration had dropped the controversial issue. That decision came after a Supreme Court ruling last week that blocked the citizenship question for the time being until more reasoning from the administration was provided.
Ocasio-Cortez calls border officials liars after new report on offensive Facebook posts
In a Twitter message Thursday, Rep. Alexandria Ocasio-Cortez, D-N.Y., branded the leadership of U.S. Customs and Border Protection as liars after a news site reported that CBP officials knew much longer than they claimed about a Facebook group on which some past and current CBP employees had posted offensive material. Ocasio-Cortez was the subject of some of this material. ProPublica, a self-described non-profit news group, reportedly has obtained screenshots of doctored images of Ocasio-Cortez, including one that shows a smiling PresidentTrump forcing her head toward his crotch.
According to Politico, top CBP officials had known about offensive posts "for up to three years" – even though officials claimed this week that they had only recently learned about them. "Looks like CBP lied," Ocasio-Cortez charged Thursday, one day after the Politico story appeared. "Reporting shows they knew about it for *years.* This is a big deal."
Ted Cruz schools Kaepernick, adds 'context' after ex-NFL star quotes Frederick Douglass 'Fourth of July' speech
Sen. Ted Cruz responded Thursday night after former NFL quarterback Colin Kaepernickposted a passage earlier on the Fourth of July from a famous speech by Civil War-era abolitionist Frederick Douglass. The passage Kaepernick cites is from Douglass' speech, "What to the Slave is the Fourth of July?" Douglass delivered to the speech at a meeting of the Rochester Ladies' Anti-Slavery Society in Rochester, N.Y., on July 5, 1852 – nearly nine years before the Civil War began.
Kaepernick posted the following portion, without adding any comments: "What have I, or those I represent, to do with your national independence? This Fourth of July is yours, not mine…There is not a nation on the earth guilty of practices more shocking andbloody than are the people of these United States at this very hour." "You quote a mighty and historic speech by the great abolitionist Frederick Douglass," Sen. Cruz writes in response, "but, without context, many modern readers will misunderstand."
Closely watched June jobs report to be released Friday
Wall Street will be closely watching Friday's release of the June jobs report, which could provide insight into whether the Federal Reserve will cut interest rates at its July meeting. As the U.S. enters the longest economic expansion on record, investors are looking at the Department of Labor's monthly payroll and unemployment data for signs that the rapid job growth over the past two years is softening and lending way to an overall growth slowdown.
TODAY'S MUST-READS
Las Vegas shooting victim's parents sue gunmaker over daughter's death.
Trump donor among seven Americans killed in copter crash in Bahamas.
Meghan McCain 'in talkso r' teturn to 'The View,' but 'some things need to change': report.
MINDING YOUR BUSINESS
US energy independence race producing tons of oil, not so much profit.
These are the most patriotic brands in the US, consumer report reveals.
Presidential salaries, from George Washington to Donald Trump.
---